There has been recent outbreak of measles in Los Angeles County, California, the U.S., and in other countries. There is a higher chance of being in contact with someone with measles and get the diseases. Measles is easy to spread to other people, but there is a vaccine (shot) to protect you from getting measles. Getting a vaccine is a safe and effective way to protect yourself. You can get the measles vaccine shot at many locations such as APHCV's health centers, a Los Angeles County Public Health Clinic, or at your doctor's office. These countries have seen large number of measles cases: Thailand, Philippines, India, Brazil, Ukraine, and Venezuela.
Important message: If you are not sure if you are protected, check your immunization records or call your provider. If you think you or a family member has measles, call to ask your doctor's office before going in.
Call your provider if you have:
Fever
Cough
Runny nose
Red, watery eyes
Rash
Common question: I had a shot (or two). Am I still protected?
Answer: The Centers for Disease Control and Prevention (CDC) considers you protected from measles if you have written documentation (records) showing at least one of the following:
You received two doses of measles-containing vaccine, and you are a(n) —

school-aged child (grades K-12)
adult who will be in a setting that poses a high risk for measles transmission, including students at post-high school education institutions, healthcare personnel, and international travelers.

You received one dose of measles-containing vaccine, and you are a(n) —

preschool-aged child
adult who will not be in a high-risk setting for measles transmission.

A laboratory confirmed that you had measles at some point in your life.
A laboratory confirmed that you are immune to measles.
You were born before 1957.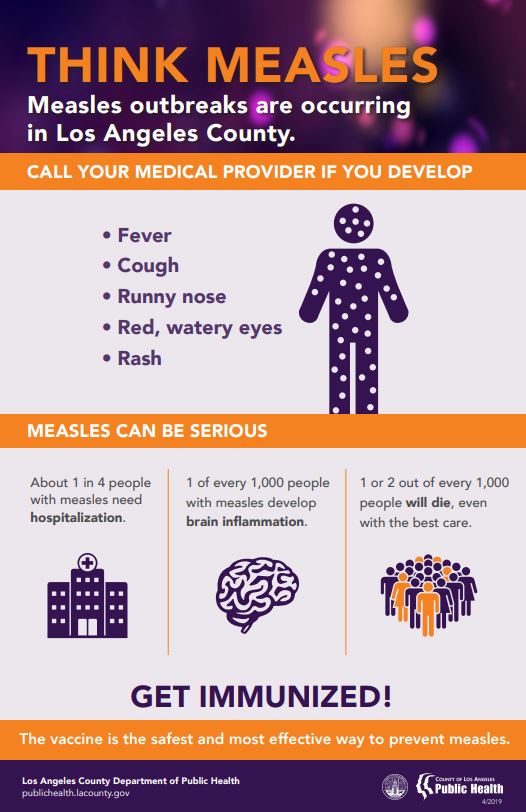 For more information, visit: http://www.publichealth.lacounty.gov/hea/library/topics/measles/
Where you can get a measles shot if you do not have health insurance: http://publichealth.lacounty.gov/media/docs/MMRVaxClinics.pdf