Written by: Priya Gandhi
It's National Preparedness Month! Has all the recent earthquakes and wildfires have you thinking about ways to be more prepared in case of an emergency?  This year, the focus is not only on knowing how to protect your home for emergencies but also how to protect your health and wellness after an emergency. It is important to have your own access to resources and an emergency supplies kit, since access might limited depending on where you are or the impact the disaster has on health care systems. Try to pack multiple emergency kits so that you are prepared whether or a disaster happens while you are in your car, at work, or at home. Be prepared with paperwork to prove your medical and insurance coverage, identification documents, and any copies of an emergency action plan. Remember, these emergency kits should be personalized to your health needs and conditions, so that it can be the most useful to you to protect your health and wellbeing.
Personal Needs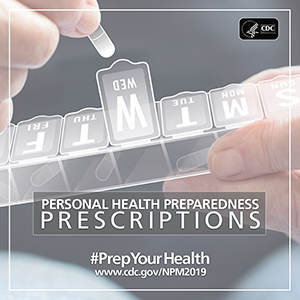 One way to be prepared is to have items that protect your physical, mental, and emotional health during an emergency. Be sure to have these items unique to you, so that it is most likely to benefit you. This can include identification papers, medical documents, and even power backups for your electronic devices.  Be sure to check out the CDC website to find emergency checklists that are fit for you and your family.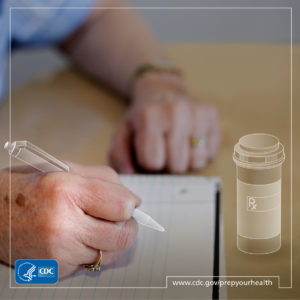 Prescriptions
A disaster could make it difficult to find an open pharmacy and get your prescription filled. It is important that you organize and protect your prescriptions, over-the-counter drugs, and vitamins to prepare for an emergency. Only 8% of Americans pack their medications in their emergency supplies kit. It is also important to write out your prescriptions and have it handy on you in case an emergency happens in your car, at home, or at work.
The CDC has resources such as checklists, emergency action plans, and educational materials for you and your family to use in situations such as these. Be sure to check their website: https://www.cdc.gov/cpr/npm/npm2019.htm.