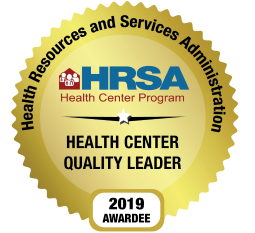 The federal agency, U.S. Department of Health and Human Services, Health Resources and Services Administration (HRSA), recognizes Asian Pacific Health Care Venture, Inc. (APHCV) with multiple awards as a community health center to provide quality care to our community. APHCV achieved a gold badge as a "Health Center Quality Leader" meaning that we achieved the best overall clinical performance compared to all health centers nationwide.
"The staff at APHCV is thrilled that their efforts provide quality care have been recognized nationally for a second year in a row.  The Federal Government awarded APHCV as a Gold Level Health Center Quality Leader – only 9.2% of centers attain this highest category.  It is wonderful that the daily work of staff, intense data gathering, and process improvement strategies by managers has resulted in measurable quality.  APHCV was also recognized in four additional categories including advancing access to care and exceeding national Healthy People 2020 goals.  The managers are proud of the staff and their commitment to being their best." – John Hoh, MD, Medical Director
APHCV continues to increase its capacity to serve the community. HRSA also recognizes APHCV's increase in the number of patients that come through our clinics. Through HRSA's Quality Improvement Awards in 2019, APHCV has met or exceeded the national Healthy People 2020 goals for many health indicators and also continuing to utilize health information technology to increase access to quality care.