COVID-19 Vaccine
APHCV is currently offering COVID-19 vaccinations to our Patients and assigned members who are 12 years and older.
Due to the limited number of vaccinations, please call (323) 644-3888 for more information or to schedule an appointment.
---
Which APHCV sites are offering vaccinations to Patients?

Belmont Health Center
180 Union Place
Los Angeles, CA 90026
(Located on Union Place just west of Belmont High School Multi-Media Building)
For medical appointments, please call 323.644.3885

El Monte/Rosemead Health Center
9960 Baldwin Place
El Monte, CA 91731
For medical appointments, please call 626.774.2988

Los Feliz Health Center
1530 Hillhurst Avenue
Los Angeles, CA 90027
For medical appointments, please call 323.644.3888
Eligibility Requirements for Vaccine
Due to limits in supply, APHCV currently is offering vaccine only to Patients of APHCV who meet California state criteria.  
Please check back here to see when that expands when more vaccine becomes available.  The following rules from California State are who are currently eligible for vaccine:
Must be APHCV patients or APHCV assigned member who are 12 years and older.

This must be the first dose (those who need 2

nd

dose (Pfizer or Moderna) have to go back to where they received the 1

st

dose)

Must not have had exposure to COVID-19 in past 24 days

Must not be currently sick with COVID disease

Must not have had monoclonal treatment for COVID in the past 90 days. Must not have had ANY vaccination in last 14 days.

Must not have had severe allergic reaction to vaccines in the past
Why is vaccination important?
Vaccination is a safe and effective way to prevent disease. Vaccines save millions of lives each year and the COVID-19 vaccine will help slow down the spread of COVID-19. When we get vaccinated, we aren't just protecting ourselves, but also those around us. The vaccines in the USA have proven to provide major protection after full vaccination from death or severe illness with COVID-19.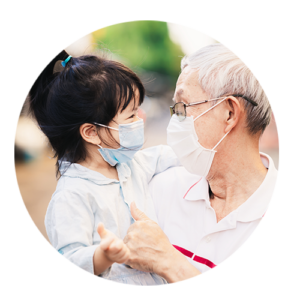 How does the COVID-19 vaccine work?
COVID-19 vaccines help our bodies develop immunity to the virus that causes COVID-19 without us having to get the illness. Different types of vaccine work in different ways to offer protection, but with all types of vaccines, the body is left with "memory" cells that will remember how to fight the virus in the future.
To learn more about how COVID-19 vaccines work, click here.
What are the side effects of the COVID-19 Vaccine?
You may get side effects after receiving your COVID-19 vaccine, which are normal. The vaccine side effects usually do not last long and will subside within 1-2 days. Some of the common side effects of the COVID-19 Vaccine may include:
Fever
Muscle aches
Headache
Chills
Nausea
Tiredness
Sore arm, red arm, or swellingwhere you got the shot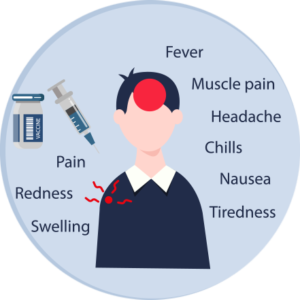 Side effects are normal and a sign that the vaccine is working. It shows that your body is learning to fight a germ and build up immunity. It is important to get the second dose even if you get side effects after the first dose.
Tips on what to do once you are vaccinated
Even after you have been vaccinated with your second dose, it takes up to two weeks after your last dose to get the best protection. Depending on which vaccine you receive, this means you will have the best protection two weeks after.
If you received the Moderna vaccine, you will have the best protection after your 2nd dose
If you received the Johnson and Johnson Vaccine, you will have the best protection after your 1st dose since this is a single dose vaccine.
It is important to continue taking precautions such as washing your hands, wearing masks and practicing physical distancing.
Click here for CDC Guidance on when you've been fully vaccinated.
---